Articles
Redwood Art Group Spectrum Miami Spotlight Recipient



Bri Fitzpatrick is one of the coolest multidisciplinary artists around. I first came across Bri when she started studying the Online Mastery Program with Milan Art Institute and I was so inspired and continue to be inspired by the way she stays true to herself and merges all her interests into one. She constantly pushes her creative bar which is something I personally aim to do and urge other creatives to do also.
Expect the unexpected when it comes to Bri! Check out her interview below where we talk about all her different creative pursuits, her favourite art supplies and her journey thus far within art and gymnastics.
Nadine: Tell us a bit about yourself. How did you get into art and gymnastics?
Bri: I believe my passion for the arts began at the age of 2yrs when I watched older sister dance on stage and I told my Mom I wanted to do that. Then when I was 3yrs old I began training in gymnastics too. Whenever I wasn't dancing, rehearsing, performing, or taking lessons/ doing other activities, I was always keeping my hands busy crafting, drawing, and painting.
N: Any tips for those who are afraid to break the mould and feel like they need to pick only one thing to pursue?
B: There are great benefits to being diverse and using the multitude of gifts you have. It allows you to be very adaptable and have many skills that you can utilize in more ways than you can even imagine.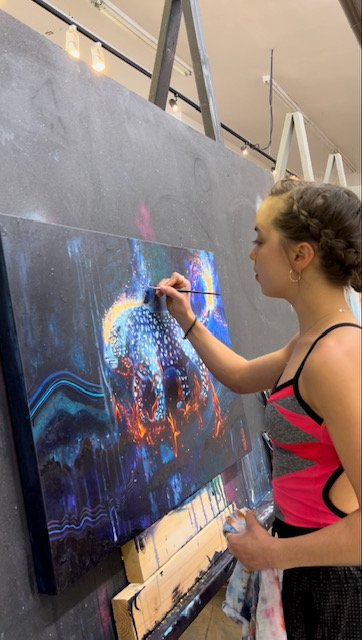 N: You're currently an apprentice for the Milans (Milan Art Institute). How is that going and how did you come across MAI?
B: I am absolutely loving it here at MAI. It is super inspiring to surrounded by so many artists that are passionate about what they do, and of course I love learning from Dimitra and Elli in person.
I came across MAI when I was scrolling through Pinterest one day last spring, and I happened to come across Dimitra's painting, Heart of the Brave, and from there on I was hooked 😅
N: Walk us through a day in your life.
B: A day in my life…that is hard to explain as each day is different… Well every morning I start by reading the Bible, working out for 1hr, call my family, eat breakfast and answer emails/ messages, then I like to get right into painting. I paint usually between 4-9 hrs a day (sometimes more if I go back into the studio after dinner) then when I finish painting I like to either dance, kickbox, and/or shoot archery, then work on video editing and posts, and then eat dinner, journal, then do etc stuff.
N: What are some of your favourite art supplies and tools?
B: Favorite supplies are acrylic paint, stretched canvases, oil paint, variety of brushes, sea sponges, rubber bands, hawk feathers 🪶 (that I have found on trail walks) and alcohol and water sprayers. Favorite tools are my feet, hands, (sometimes my nose 😂) oh and my bow & arrow.
N: If you could start over, is there anything you wish you had known about art as a beginner or would have done differently?
B: I don't think I would want to start it over. I believe everything has happened and is happening for a reason.
N: What do you want people to take away from your art and performances?
B: Love this question! Not only do I hope to inspire others to shine their unique inner light, but also I hope they will be able to connect with/ relate to the art I create in a more profound way that no word will ever be able to describe the soulful feeling.
N: What tips can you give to an aspiring artist/gymnast?
B: Have fun! (with discipline 😉 what I mean is not everything in life will seem fun, but try not to be so hard on yourself that you don't set aside fun time 🤩) Enjoy what you do….actually LOVE what you do and who you are! You are a light in this world.
Thank you so much Bri!
Follow Bri on Instagram: www.instagram.com/bri_fitzpatrick
Visit her website: brianalfitzpatrick.com